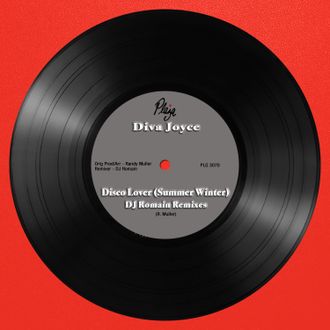 Disco Lover - (Summer Winter) DJ Romain Mixes
Diva Joyce
A fixture in the New York City club dance scene, Dj Romain brings a brand new Jackin/ Soulful House flavor to this Randy Muller gem, which was originally recorded in 1978 at Soundworks Studios, located right below NYC's famed Studio 54. 
This record has been more than three decades in the making, the beat is strong, the groove is electric and, like a fine brew, it seems to have only gotten better with time. The original release of this track was an ode to classic funk and soul/disco paradise. Brassy horns, soulful vocals. Romain's (Summer Winter) Remixes takes it to a more contemporary place; to another sonic space, while keeping it real and totally bangin'. 
Vocally Reminiscent of Betty Wright's "Clean Up Woman," "The Diva" really rocks this one and makes it hard to resist being a disco lover, all over again.
Artist: Diva Joyce 
Remixer: DJ Romain for Plaza Records 
Written,Arranged and produced by Randy Muller for Plaza Records, Inc. 
Published by One To One Music Publishing, ASCAP 
Original Recording - Sound Works Recording Studios, NYC 
Additional Recording -Plaza Studios, NY 
Horns- Charles Daugherty(Saxes),Tom Russo-Trumpets 
Original Rhythm Section- "The Skyy Boys": Randy Muller-Keys, Tom McConell-Drums, Gerald Lebon-Bass, Solomon Roberts-Guitar, Anibal Sierra-Guitar 
Congas-Anthony Williams, Percussion, Background Vocals- Randy Muller